A few weeks ago I returned from a 15 day journey through Ireland where I traveled to visit my girlfriend who is a student at University College Cork. A bit of backstory for those curious – her and I have been together for just over seven years and for the majority of this time we both lived in Toronto. Two years ago she was accepted at UCC and was able to push forward in achieving her dream of becoming a dentist with their four year dentistry program. As a consequence, our relationship became temporarily long-distance – although thanks to instant messaging apps like Viber in addition to low-cost air carriers, the distance is manageable and we still see each other during breaks. With that in mind, after her second school year we decided we would spend some time touring around Ireland early this summer. Accordingly, my journey to Ireland 2018 began on June 25th in Toronto at Pearson International Airport aka YYZ.
I arrived at Pearson four hours ahead of my flight and was greeted with having to navigate an extremely crowded terminal. The terminal was busy, filled with excited travelers heading to destinations around the world. Given the time of year, I believe most of the people around the Air Transat check-in were travelling for a holiday; I overheard people talking of flights to Spain and Italy and everyone looked eager to be flying out. Thus, the air was abuzz with cheerful travelers. I too was extremely excited – I was on my way to see the woman I love!
As you can see below, there was a bit of chaos – three flights to Europe with Air Transat all had departures around the same time, thus most passengers arrived for check-in and overwhelmed the available staff processing checked baggage. Nonetheless, the chaos of people was organized, filed, and processed and the wait wasn't more than an hour.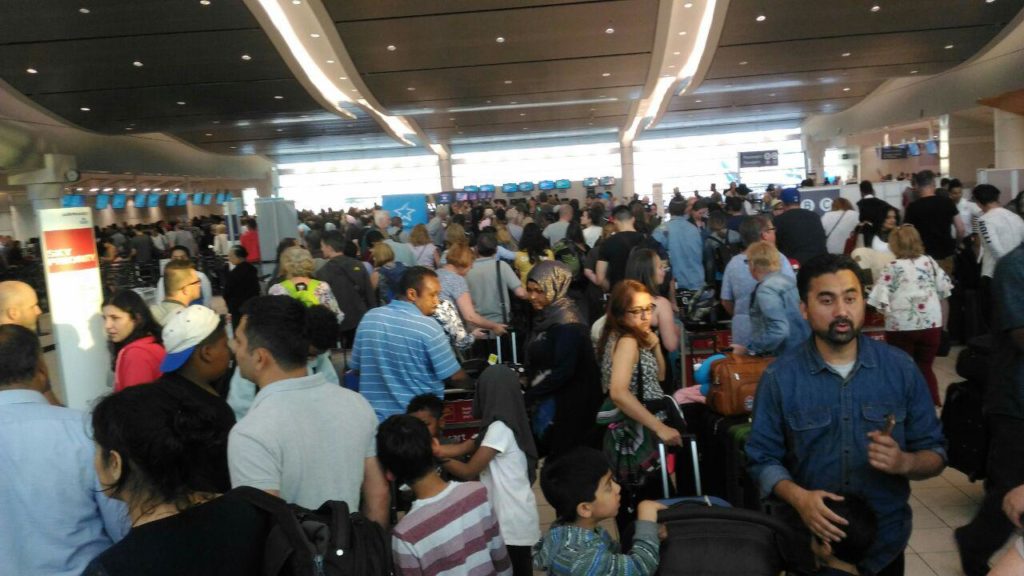 Upon dropping my luggage and passing security, I made my way to the gate. Boarding was called, the flight was on-time, and we departed without incident for an overnight flight to Dublin. I enjoyed my hot in-flight lactose free meal. A pro tip for travelers, if you want your meal before anyone else – during the booking of your flight, set the meal to lactose free/kosher/or halal. I am actually lactose intolerant so I'm not really abusing this process, however, obviously anyone could select this option.
The next morning as we passed through the sunny and clear skies of Ireland, we made a gentle touch down on the Dublin airport run-way. After unboarding, all passengers made their way to customs. I queued for a 30 minute wait in the international arrivals custom line where I spoke with an agent who cleared me in under 30 seconds. I smiled, proceeded forward, and collected my luggage which was just coming out for pick-up. Perfect timing!
I then sat for a minute to connect to the wifi and made my way to where the gobe (gobus.ie) would be picking me up. After a short wait, the bus arrived, I loaded my luggage and was ready for a 3 hour bus ride to Cork.
Arriving in Cork
I arrived in Cork late in the afternoon on June 26th. I was very excited to see my girlfriend who was waiting for me at the arrival terminal. As the bus came around the corner to park beside the River Lee, I saw her standing there waiting. Our eyes connected and two of the biggest smiles in Ireland erupted. At last, after having been apart for months, we were together again. It is not easy to be apart from the woman who you consider the love of your life – however, it is a sacrifice we've both made to help her achieve her career aspirations, which I full support – as any loving partner should!
Eating at Son of a Bun on MacCurtain
After a long and drawn out passionate kiss as we held each other at the bus arrival, the second order of business was to eat! We then walked to Son of a Bun on MacCurtain Street and it would be there where I ate one hell of a tasty burger. We ordered the S.O.B. burger (€10.50/$15.95 CAD), a burger including a 6oz patty, cheese, smoked streaky bacon, shredded iceberg lettuce, tomato, crispy fried onions, and their special S.O.B. sauce. Even more, we ordered a Classic Burger (€8.50/$12.88 CAD), which is just a 6oz patty, lettuce, tomato, red onion, and mayo. Both sounded delicious after a 7 hour flight followed by a 3 hour bus ride and even more, based on the dishes we saw on the tables around us, my taste buds salivated at the thought of eating a juicy burger. Nonetheless, as we ordered, I wondered what sides would be included – and to my surprise, the gentleman serving us informed me that the price includes the burger only. I was slightly disgruntled at first – $15.95 CAD seemed like a of a lot of money for only a burger. Nonetheless, being the starving traveler that I was, and assured by my beautiful girlfriend that it was worth the price, we decided to throw in one side of sweet potato fries for €4.80/$7.27CAD and placed our order.
After ordering, we chatted for a bit and after approximately 10 minutes, our meal arrived. The S.O.B. burger tasted fantastic, although it was very greasy. Despite the grease, it really hit the spot which my stomach longed to be filled. The burgers were huge and there wasn't any question that I would be walking away with a full stomach. Nonetheless, the price well… maybe a tad expensive.
After our meal, we walked down St Patrick's street briefly – the main shopping strip in Cork. We then caught a bus and headed home to shower, unpack, and rest.
Car Rental Day 1: Car rental's in Ireland and what to expect.

The next day we traveled by bus from Cork City Centre to the Cork Airport. We had booked a car online from Budget  as their rates were the most affordable  at the time when including all insurance coverage. With that in mind, it is important to note that in Ireland, unless you are willing to place a €1500.00 damage deposit (insanely high!) on a credit card, it is easier to just pay for the all inclusive insurance including Collision Damage Waiver (CDW) and Excess Reduction if you're renting for a short period. Paying for the Excess Reduction reduces the deposit they will hold on your credit card to  €0 and in all honestly, given how narrow the roads are across the country side, I was thankful to have that peace of mind.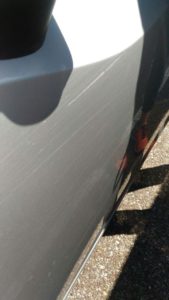 Unlike North America where the roads are open, wide, and free, in Ireland a lot of the roadways are narrow with bushes and shrubs encroaching the sides of the road. If you look at vehicles on the countryside, you'll notice many of them have scratches on the doors and mirrors. Even more, just looking at the cars in the rental car parking lot, many of them have scratches along the sides. This is certainly a result of narrow roads, high speed limits, and bushes/shrubs so close to the sides of the road. It is not uncommon to have 80 to 100km/h speed limits on 2 lane roads no wider than 12 feet. Even crazier, as narrow as that is, many drivers in Ireland will try to get as close to that speed limit as they can – at least based on my experience. Thus, with so many speedy drivers and trying to maintain some clearance from approaching vehicles on the other side of the road, it is very easy to get just close enough to rub the side bushes and scratch up your doors. Hence paying for the excess reduction fee gives you that peace of mind to essentially scratch the hell out of the doors and not have to worry about paying for it.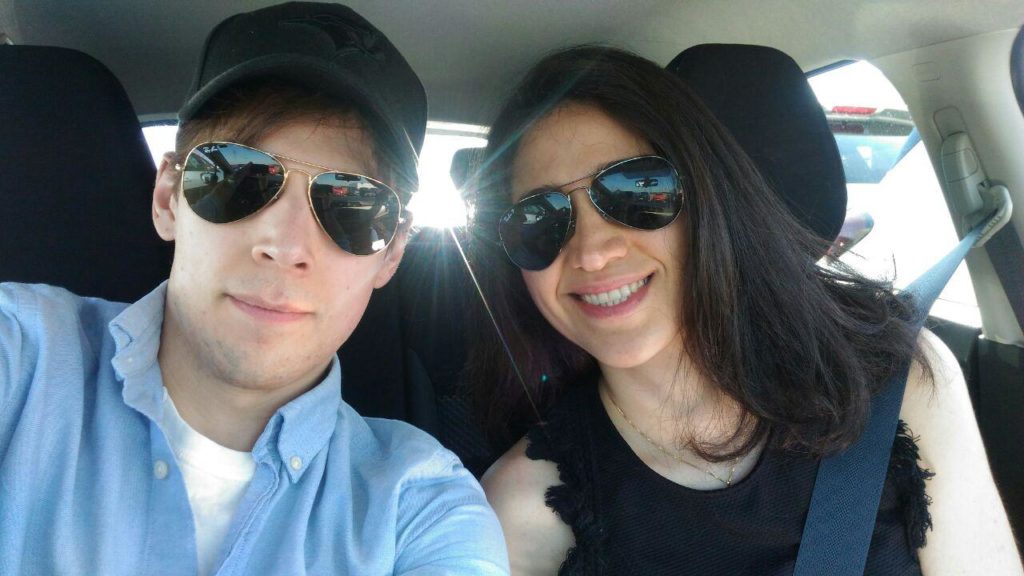 We picked up our vehicle, a beautiful 5-speed manual 2018 Nissan Micra. I spent about 10 minutes practicing in the parking lot; driving a manual is no problem for me, however, it took a few minutes to adjust to driving on the opposite side of the road and shifting gears on the left instead of right. With that said, my girlfriend advised she was impressed with how quickly I was able to adjust and she flattered me with words of encouragement at how she felt safe as I drove. I think having driven in Toronto traffic for so long, driving in Cork was simple even if things are slightly inverted. Nonetheless, it is worth it to just practice for a few moments to ensure as a driver, I had a basic handle on the vehicle.
Driving to Gougane Barra
Our drive to Gougane Barra was beautiful and the countryside is gorgeous, filled with lush green fields, forests, hills, and grasslands.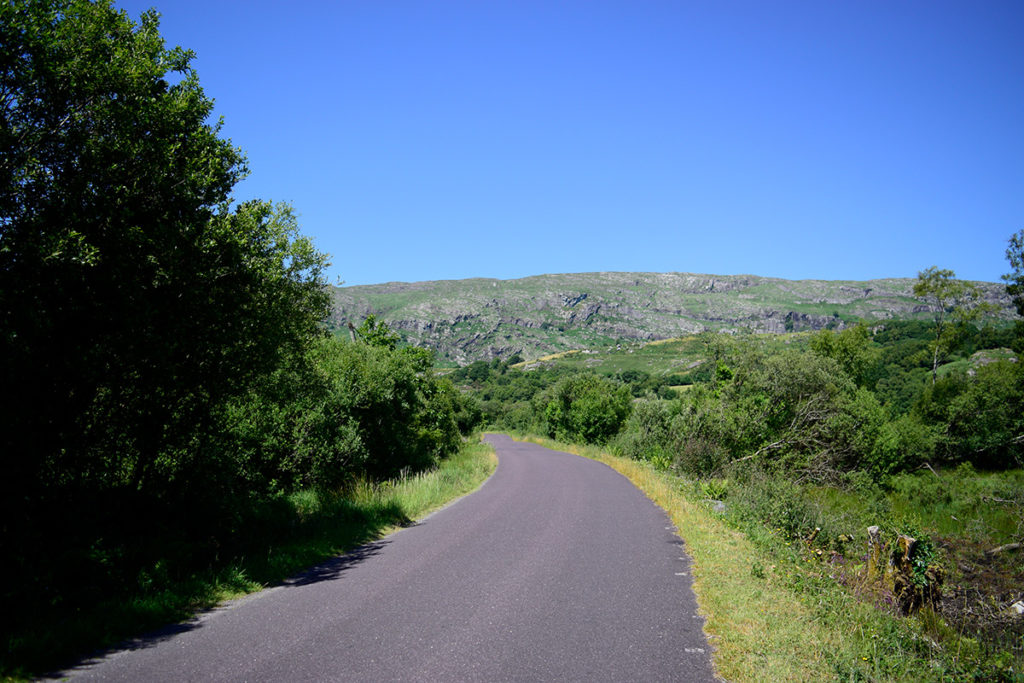 Gougane Barra is a little settlement surrounded by large grass covered stone hills. At the centre is a small lake with peninsula where a stone walled monastery was built in the 1700's by Father O'Mahoney. The site also houses a small graveyard, hotel, and restaurant. Visitors can tour the grounds at no cost, however, there is a tip jar within the monastery and of course we left a small tip.
The back roads to Killarney National Park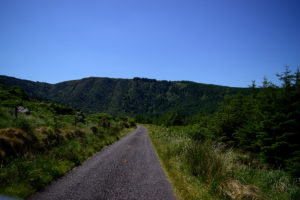 Not being familiar with the roads, we let Google Maps direct us with the most direct route from Gougana Barra to Killarney. With that said, we weren't mindful to the fact that perhaps the side-roads in Ireland aren't comparable to the side roads of Ontario. We quickly found ourselves travelling on twisty-turny gravel roads no more than 5 to 6 feet wide with virtually no traffic in sight. The scenery was absolutely gorgeous and we began to encounter something we seldom ever see in Ontario – sheep and goats on the road.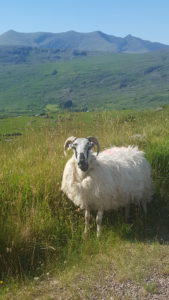 Our journey landed us in a place which is absolutely peaceful and tranquil. We parked the vehicle in what was seemingly the middle of no where. It was quiet, calm, with hardly a sound outside of the occasional "baaah" of a goat in the distance.  I couldn't help but think that it would have been a great place to record an episode for my ASMR youtube channel – maybe next time. We sat in the silence, enjoying the beauty of Ireland's hill and valley filled countryside, before pressing forward to our next destination. 
Killarney National Park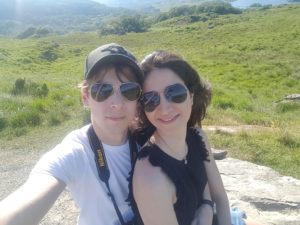 Killarney National Park is absolutely beautiful. The landscape is filled with green covered mountains, grasslands, meadows, and farmlands filled with goats. The main highway which drives through the park, N71 Ring of Kerry, is full of beautiful sights and frequent openings on the side of the road to park your vehicle for sight-seeing and photography. Even more, it is not uncommon to see the friendly faces of goats along the highway – drivers should probably take extra caution when coming around corners, watching out not only for traffic but also farm animals which may be free roaming.
We stopped several times as we drove down the mountainside on our way to Killarney. One of the main tourist stops is "Lady's View", which offers a broad and open view of the countryside and surrounding hills and mountains. From here we looked down the hillside and across Upper Lake, which connects to Muckross Lake and Loughe Leane. The view was spectacular and so beautifully green.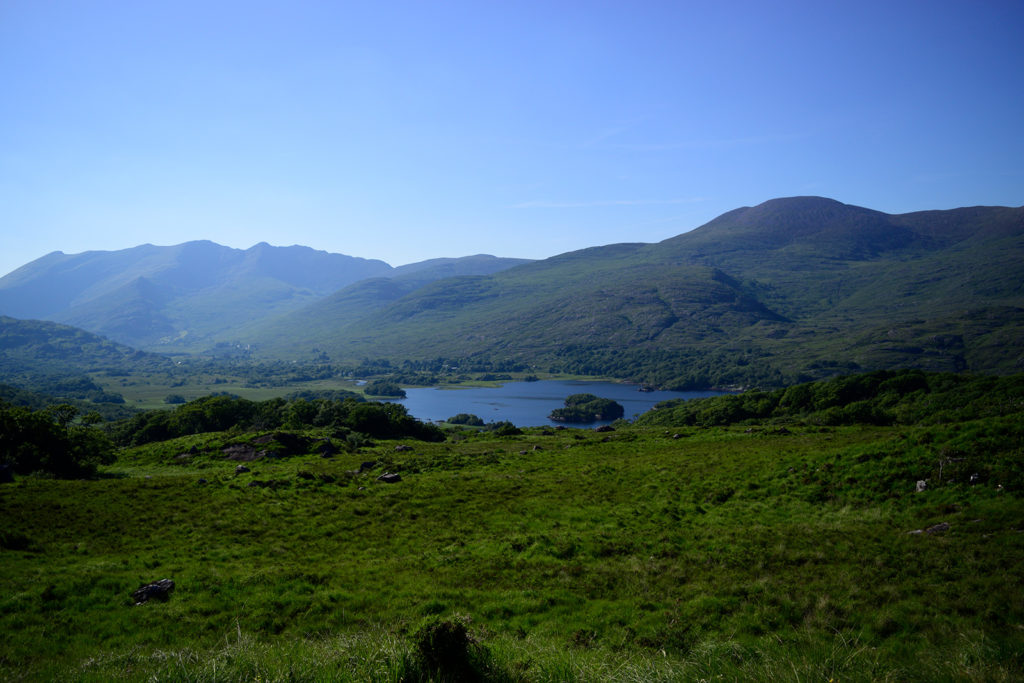 Our day was very hot and humid, the sun was shining bright and we needed some relief from the heat. With our vantage point from Lady's View, we looked down to Upper Lake and had a few ideas come into our head about potentially swimming there. For one reason or another, there was something that sounded romantic about the two of us finding a path down to the lake and swimming – just the two of us. Thus, we continued our drive down N71 until we were closer to the lake and found a very obscure parking spot along a forest which we knew wasn't too far from the water. While this wasn't a designated swimming spot, we decided we would try to find a spot to jump in. We trekked through the forest for moment or two until we found ourselves on the shore of the lake.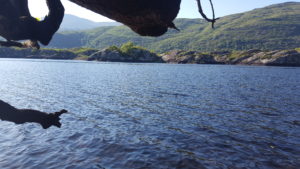 Now, when we set out for the day we hadn't planned on swimming and as a result, we weren't adequately prepared with towels or bathing suits. Nonetheless, we were isolated and couldn't see another person, thus swimming in our underwear seemed like the best option! We both undressed to our undies, slowly walked in, and swam for a few moments to cool off. As we entered the water, it was cool but not cold, dark but clear enough to see several feet below the surface, and felt just right for a refreshing swim. Given that we weren't familiar with the water, we did keep our heads above the surface just in case there were any sort of water-quality issues we weren't aware of.
After we finished, we sat in the sun for a few moments to dry briefly. Being together, swimming in such an isolated area, and having such gorgeous scenery to surround us was nothing short of romantic and it was just the sort of experience we needed after a long and grueling time apart during the school year. After we dried, we then dressed and headed back to the car to continue our voyage through Killarney National Park and into Killarney.
Killarney, Ross Castle, and Coffee at McDonalds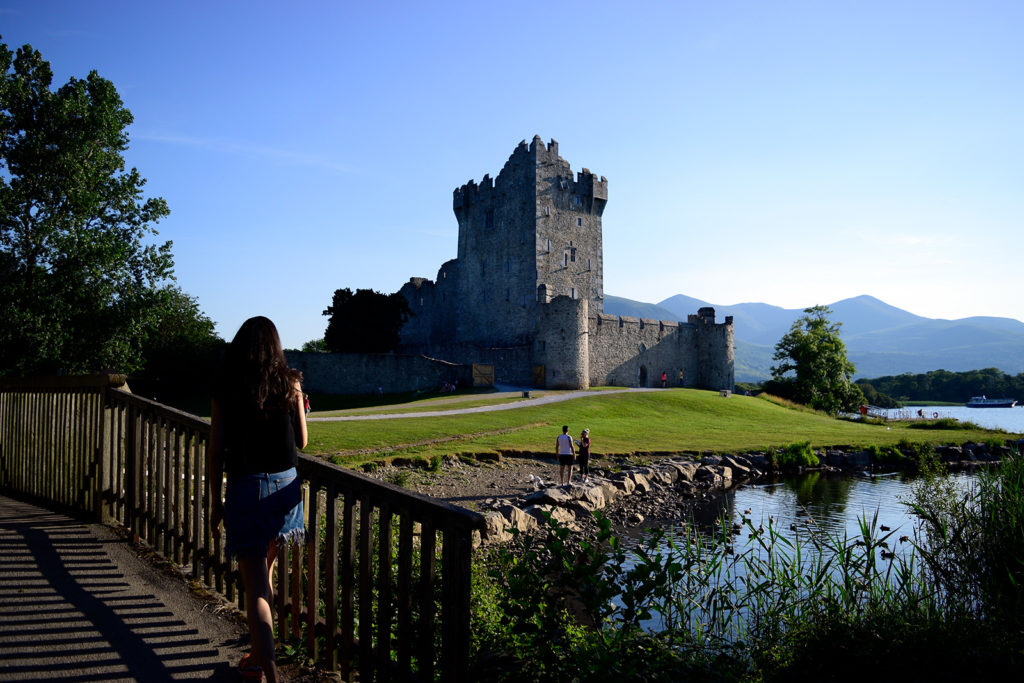 Soon we arrived in Killarney. On a whim we decided to follow the signs to Ross Castle – proving road-side signs do work for advertising! We arrived approximately 2 hours prior to sunset and fortunately for us, this was such an ideal time for photography. The castle interior was closed by this time of day, however, the grounds were still open to walk around. We spent about half an hour walking around the castle and taking several photos. On the grounds were horse and buggy rides for anyone wishing to experience a more traditional method of transportation.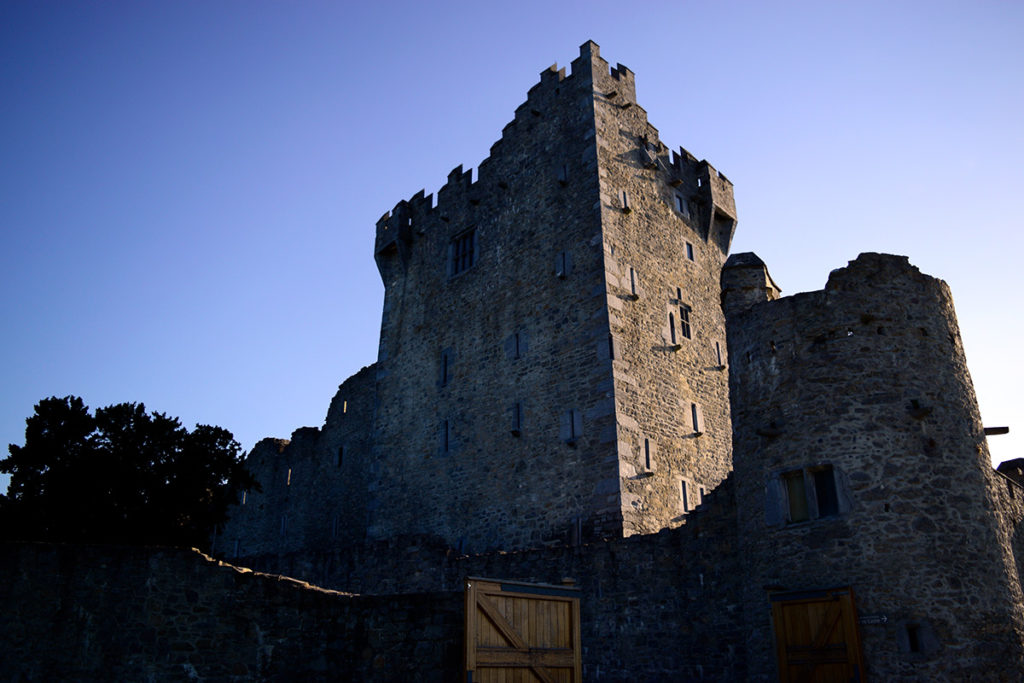 In my opinion, this would be a great location for wedding photos or any couples type photos of significance  – provided you try to remove the tourists from your pics. The landscape is beautiful with gorgeous mountainous backdrop, making it a great location for photography.
For us, after visiting Ross Castle we realized we were becoming increasingly exhausted. Thus, as any coffee drinker knows, the cure for being exhausted is another coffee. So with that in mind, we plugged McDonalds into our GPS and ten minutes later we were in line to order. As economical tourists not wanting to spend too much, we also embarrassingly ordered a few Eurosaver Hamburgers for dinner. Having just ate a hamburger from Cork's S.O.B. days earlier, eating a McD's burger was a bit of a disappointment – nonetheless, it was just a stop-gap to get us through the next few hours.
Realizing our Car was broken
At this point, the sun was about to go down and we were just over 2 hours away from my girlfriends condo in Cork, thus we decided it was best to try to head home before it was too dark – this was still our first day driving in Ireland. We made it home safe and sound, parked the car in the underground parking, pressed the lock button and by fluke, I checked each door to make sure they were locked. As I checked the back door, I realized the door wasn't locked. I pressed the key fob lock again, checked the door, it still wasn't locking. It turns out that back door never locked the entire day because the locking mechanism was jammed! In other words, we were very lucky nothing from our car was stolen including $1000 of camera equipment.
We called the 1-800 number for our rental and they sent out a mechanic to take a look at no cost to us. An hour later, a tow truck arrived and after a quick inspection, the driver advised there was nothing he could do on-site and to take the car back to the rental agency the next day. At this point it was 1am and we were beat and tired. We thanked the mechanic for his time, he logged his visit and sent a report to Budget, and we decided the next morning we would visit Budget. Not wanting to lessen a great day, we decided this little setback, which would eat into our travel time tomorrow, was going to instead be of benefit to us. Why? Because any company with good customer service wants to make sure their customers are happy.
The next day when we exchanged the vehicle, the man at the counter apologized for the inconvenience. He was extremely friendly and understanding. We explained we how we were up until 1am the night before waiting for the driver who Budget sent out, he couldn't fix the lock, thus now we're wasting another hour and a half + fuel driving to exchange a vehicle. Wanting to ensure we weren't walking away frustrated, the kind gentleman waived our tank of fuel – which would save us approximately $40 CAD. Not too bad. We thanked him, picked up our new vehicle, tested the door locks – which were working this time – and began our drive to Cliffs of Moher.
---
I will be posting Part 2 of my trip to Ireland in the coming week. Check back soon to hear about how the rest of my trip went!