Guide to solo driving through Kurdistan Region of Iraq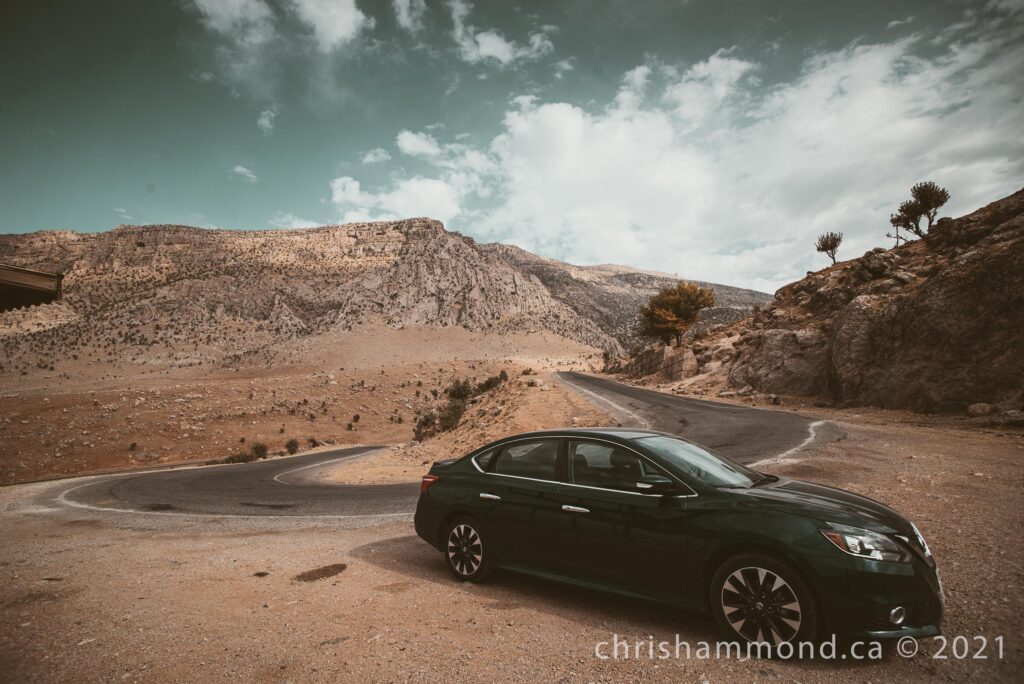 In the KRI, visiting anywhere outside of the city is easiest by car. While it is possible to travel by taxi or bus to other towns and cities, having your own vehicle will give you access to remote and beautiful areas that are not otherwise accessible. In this article, I will discuss my experience of renting and driving through the beautiful Kurdish countryside.
Renting a car
There are dozens of car rental agencies in Erbil, the catch is that most are offline and require booking over the telephone or visiting their office. If you're looking for a deal, stay away from companies like Hertz or Avis; they'll charge you 2x to 3x more than local rental companies, plus, you should support local small businesses. When I was in Erbil, I rented from Param. The rate they gave me was amazing, and the owner was extremely friendly.
I found Param after searching across the internet, reading Google reviews, and checking out several rental agencies on Instagram. On Erbil International's facebook group, Param was recommended. I called ahead of time and they advised to come in on the day I wanted to rent.
The process was relatively easy; I filled out some papers, they scanned my passport ID page, and I paid in cash (rental fee + damage deposit). There was one small hiccup – the owner asked to hold onto my passport, which I refused. Driving around Kurdistan means you'll be going through countless military checkpoints that frequently ask for identification. Without ID, it's likely you'll be detained, and possibly end up in jail. I was a little surprised the owner asked this given that he should know better, but after I refused, he agreed he didn't need it, and there weren't any other problems.
When renting, also make sure you request a collision damage waiver. In the KRI, car insurance isn't available for local drivers, however, the rental agencies usually provide some form of insurance. I'd highly recommend it given that the roads are filled with less-than-stellar drivers and you don't want to be liable if the car is totalled.
Finally, if you're unsure about driving here – don't do it, or at the very least, take your rental out in the morning when traffic is lighter and practice for an hour. Afternoon and evenings are when traffic is the heaviest in Erbil, and this is when the roads are the craziest. If you're prone to panic, it's going to be a rough ride for you. Vehicles on the road will swarm you, flying by as they dangerously race well above the speed limit. While driving around KRI, I witnessed the aftermath of two fatal head-on collisions that occurred moments before I arrived. Often careless drivers are racing to pass one another and not paying attention to oncoming traffic.
Things to watch out for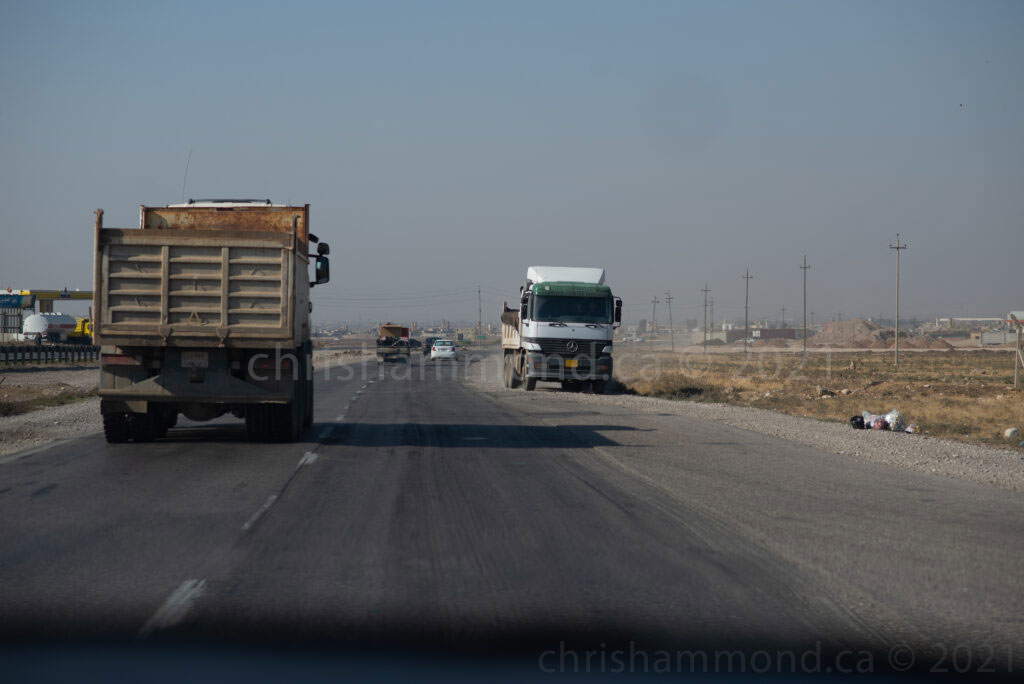 You're going to want to pay attention at all times, not only to other vehicles but also to traffic cameras and the dreaded speed bumps. Even more, when driving through cities, pedestrians expect you to stop for them to cross – so watch out. This isn't like other countries where cars are given priority, in KRI it is expected that you will slow down and stop for people crossing, and many times, they're not going to be paying attention to you if it's a crowded suburban road.
Speed bumps can catch you off guard. While great for slowing traffic down, they also have a habit of destroying the underside of a car if you hit them when going too fast. Based on my experience, there's a significant number of unmarked speed bumps on rural roads, many of which I hit while driving between Erbil and Dukan. In the day, they're easy to spot – but driving around at night, they can be very hard to see until they're right in front of you. Given most rural roads you'll be driving 80 to 120km/h, you won't have time to slow down if you approach one; so, just assume that anytime you're about to drive through an area with a shop or house on the side of the road, you're probably going to encounter a speed bump. Grill that into your head if you plan on driving the countryside for more than an hour.
Also, traffic cameras are everywhere and most of the time, they're marked with a sign. In November I noticed an increasing number of temporary speed cameras operating on the back deck of police pickup trucks. These are usually completely unmarked, and not easy to see ahead of time. If you pass a speed camera and notice a flash, you're likely going to receive a traffic ticket a few weeks later.
Choosing the correct fuel
Gasoline in the KRI is not the same octane as Western fuel. It is much lower grade and does not include engine cleaning additives. I once asked if Iraqi fuel has cleaning detergents included and was laughed at. I can only imagine they thought I was talking about adding soap to the fuel. ? In the West, most fuel includes chemical additives called cleaning detergents that clean the engine, allowing for cleaner combustion and less emissions. Nonetheless, that is not the case in both KRI and federal Iraq.
With that said, given the fuel is a lower grade and not nearly as clean, it's best not to let fuel go below a quarter tank so the debris doesn't build up as much along the bottom of your tank near the filter. Given you're using a rental, it likely won't be a problem for you – but at least you're extending the life of the fuel filter for the rental agency.
When arriving at a gas station, many times an employee will be there to fill it for you. Most of the time, they won't know English so you're going to want to learn how to say it in Sorani or Arabic. For me, I chose Sorani given it's respectful to speak the Kurdish language in Kurdistan.
To ask for normal fuel, you can simply say "kaka, benzine fulika adii" or "kaka, fulika normal". This means "sir, please fill with normal/regular gasoline". If they don't understand, you can sometimes get away with "adi full" or "normal full" (pronounce full as fool) and maybe two out of three times, they'll understand you. The worst case scenario is that you may have to use Google Translate text-to-speech in Arabic. And yes, I've done this and had full-on conversations through Google text-to-speech, going back and forth from English to Arabic with a taxi-driver.
Military checkpoint etiquette
There are many military checkpoints around Iraq, and for Iraqis, they're a part of daily life. Unfortunately, they are a necessity in a country that has dealt with numerous conflicts and crises, including ISIS and other violent regional actors. When approaching a checkpoint, have your passport ready. I've found that when driving to the south of the KRI, they check passports more often, however, driving up in the northern regions like Shaklawa, Barzan, Duhok, and Amedi, they don't check as often.
When you approach a checkpoint, remove your hat and sunglasses, turn your headlights off if it's night, and open your window. The guards are usually very friendly. Several times I've joked around with them, and often times they were surprised to see a Canadian driving out in the middle of nowhere up in Barzan area.
Other things to be mindful of: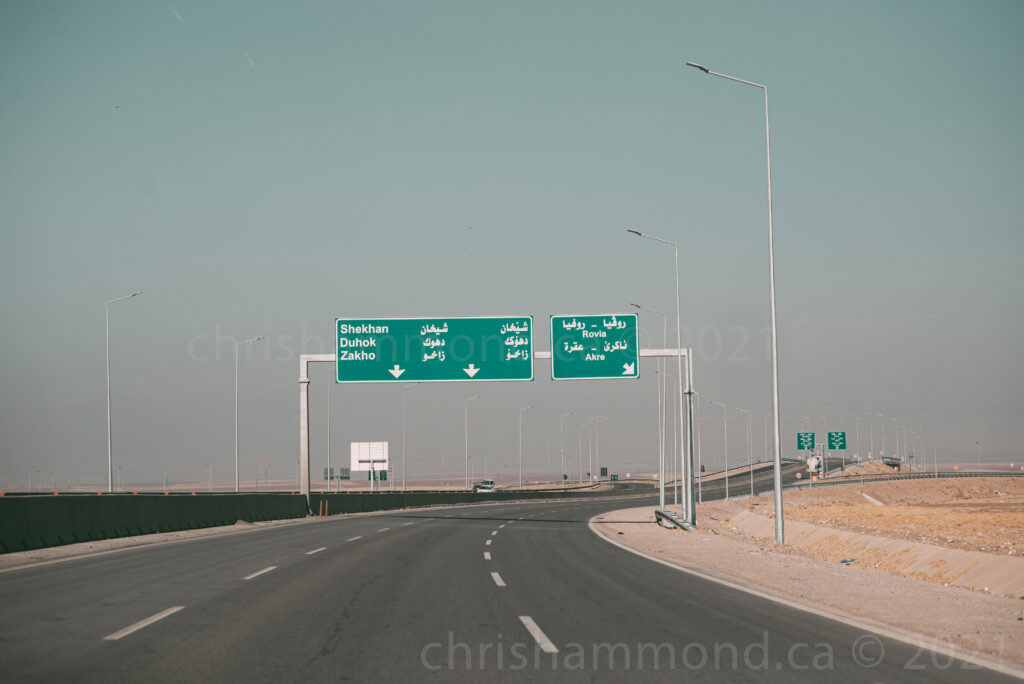 One October evening, late at night, I was driving home along a highway between Duhok and Erbil. I didn't realize I was entering a section under construction as there were no visible signs indicating the highway was about to end. The night was dark and there was no traffic around me other than one vehicle driving on the wrong side of the highway in our lane. I should have taken that as a warning. A moment later, as I was driving along at 100km/h, I suddenly realized the road ahead disappeared – the road was incomplete. I slammed the brakes and just narrowly avoided driving off the highway into sand and rocks ahead. It turns out that the other vehicle we just passed had also had the same experience.
With that in mind, it's always best to drive with caution and I'd recommend taking someone who is experienced. The main concern with driving in the Kurdistan region of Iraq is not security, but rather, being mindful of other drivers and varying road conditions that require consistent vigilance. With that said, having a vehicle to drive around the countryside was a tremendous benefit and allowed me to access parts of the country that were not accessible by other means. Good luck and I hope you enjoy your journey.